I love real adventure. I have traveled the world, been chased by baboons in Africa, hang glided across the Swiss Alps, and jumped out of a perfectly good airplane at 15,000 feet. But, I never thought fishing could be called an adventure. It seemed monotonous to me. I just never saw the point. No, nasty letters, please. Every time I went fishing I sat in a boat for hours and never caught anything. That was true, until this weekend.
I have a good friend I grew up with named Tim. Tim and his wife live in West Palm Beach where he is a successful business man. Jane and I ate dinner with them a month ago, and Tim invited me down to fish. I reached out to a mutual friend of ours from grade school named Chuck, and we made the arrangements and arrived in West Palm this past Friday.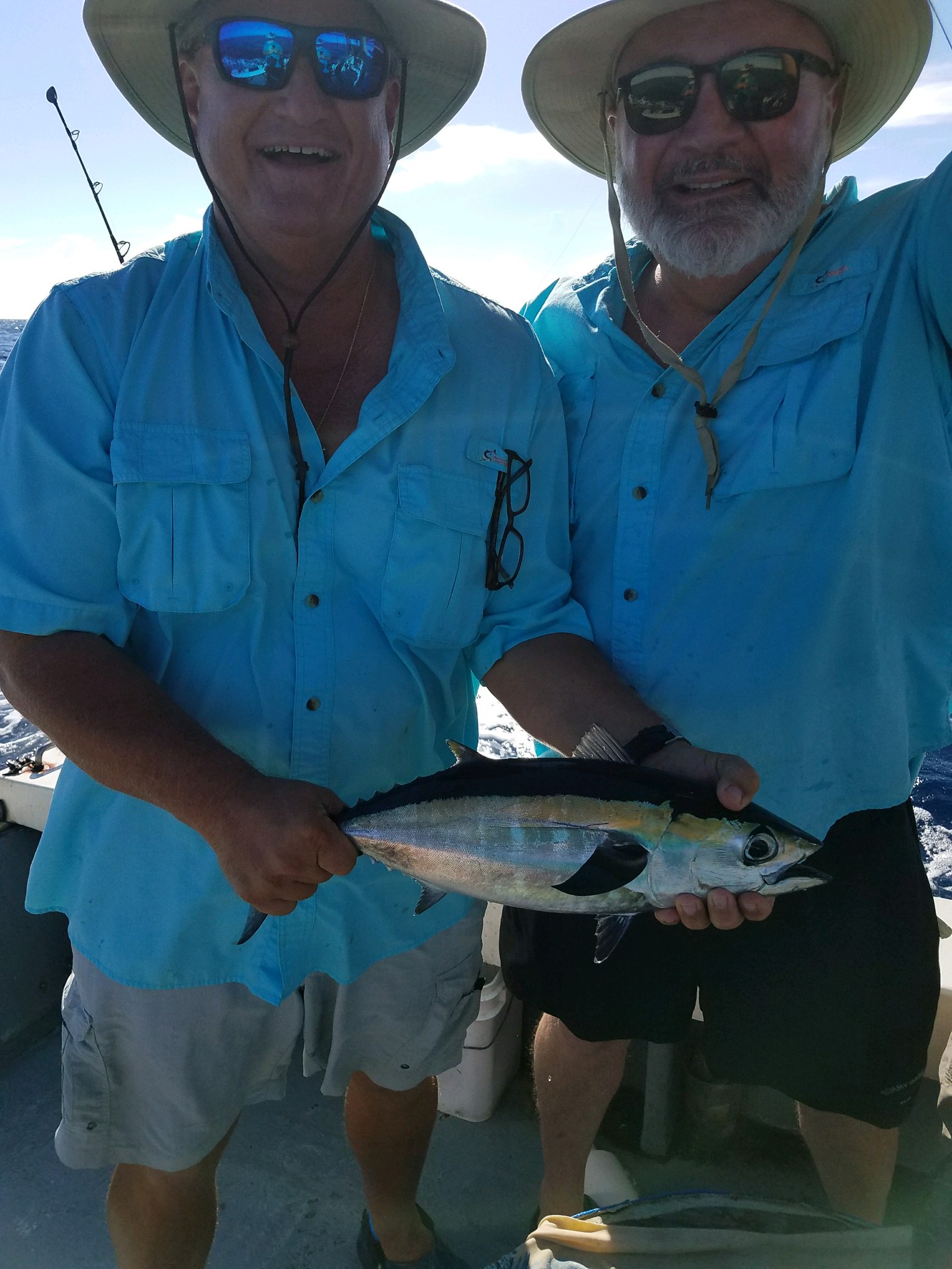 Our first day of fishing was Saturday. Tim picked us up at the hotel at 5:00 AM. We met the captain of our fishing boat at the dock and were in the inter coastal waterway headed for the sea by 5:45 AM. Shortly after we left shore, we caught about 50 sardines which would be our live bait for the day. When I caught my first sardine, I let everybody know that was officially the biggest fish I had ever caught.
The morning started slowly. We tried a few spots around 15 miles from shore but were having no luck. Then all of a sudden the fish began to hit. We caught Black Finned Tuna one after the other. It was exhilarating. The tuna would fight and struggle enough to make it pretty hard to reel them in. They were all around 10 pounds in size. Just about the time you'd put a hook in the water and decide you were going to take a momentary rest, one of the guys would yell, "FIsh on," which alerted us that we had a fish on the pole.
Then the captain began to cut up chum. Chum is fish that is cut up and thrown into the water. I thought that was interesting, but I had no idea what was about to happen. Suddenly, I felt a fish on my line, but this time it felt different. It didn't dive as the tuna did. The fish on the line was trying to swim away from me then it would jump out of the water showing me it's beautiful colors. Our captain shouted, "That's Mahi Mahi." I had eaten one before, but I had never seen one in its natural habitat.
As I got my Mahi in the boat, Chuck and Tim had Mahi on their hooks. As we reeled in the fish, the captain would come gaff the fish and pull them into the boat. In just a few minutes we had quite a few Mahi Mahi on the floor of our vessel. The water was green and blue as a school of these fish were all around the boat. The chum had created a feeding frenzy. I have never seen anything like that in my life. The energy on the craft was palpable. The captain was cutting and throwing the chum into the water, and we were catching these beautiful fish one after the other. It was thrilling.
We caught fish all day long. If they were great fish to eat, we put them in a cooler to take home. If they were not good for food, we took the hook out and threw them back.
We fished again on Sunday. This time in Tim's boat, we stayed within 3-4 miles of the shore. Tim had a plan for us, and it worked like a charm. We fished for three hours and caught 35 beautiful fish including more tuna, amberjack, mangrove snapper, and a few sharks. We also caught a gorgeous 80-100 pound fish that sailed out of the water to show himself to us before he snapped our line and swam away. It was breathtaking.
I am home now and have been reflecting on my fishing adventure with my friends. It has been on my mind all day. I have already scheduled a trip in September to take my wife fishing. I want my sons to go fishing with me. I even have been envisioning taking men and woman on Big Life fishing trips. I think they would love it. We would fish during the day and eat seafood and talk business each evening.
I love adventure. I do not have the temperament to sit all day hoping for a nibble. But deep sea fishing, that's a different story. I have discovered after this trip that I am seriously hooked. 🙂