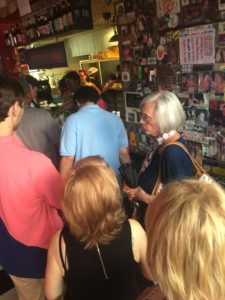 Fat Matt's Rib Shack is one of my favorite places to eat in Atlanta. Fat Matt's has been open for business since 1990. It is in a small space. The building previously had been a Chinese Restaurant and before that, a Dunkin Donuts. You have to stand in a pretty long line to order.
Parking is difficult. The roof leaks. But even with those small issues,  I choose to go there every time I can because it it special. And I am not alone in this assessment. Blue collar workers and business men and women all love it. Professional athletes, politicians and movie stars all make sure they stop by when they are in Atlanta. Fat Matt's is so famous it even was mentioned in the George Clooney movie Up In The Air. It was a great moment in cinematic history when the Clooney character tells a friend when he is going to be in Atlanta, "You have to eat at Fat Matt's."  And then he adds, "Make sure you bring a bib."
So why is Fat Matt's so wonderful?
Here are more than a couple of thoughts…
Fat Matt's Rib Shack knows what it is and doesn't try to pretend to be something it is not.
The menu is simple.
They do ribs, chicken, barbecue sandwiches, some sides, white bread, beer and soft drinks.
It is not fancy. The building is a shack.
If you want pasta, go somewhere else.
If you are looking for a good salad, you won't find one at Fat Matt's.
BUT, and this is HUGE, if you want ribs with the meat falling off the bone with some white bread and collard greens, you have come to the right place.
They offer a different vibe than most restaurants because they have live blues music every evening.
There is something really cool about eating ribs and listening to the the piano playing of Eddie Tigner, the 90 year old Blues icon and his band.
IT IS MAGIC!
Blues and ribs just go together.
It isn't slick – it's real, and real matters.
MOSTLY, more than any other thing … I simply love it.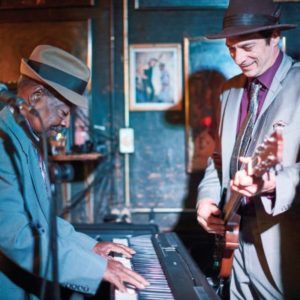 So that's it. Fat Matt's knows what it is and doesn't get out of it's lane. Then it mixes the Blues with the good food which  makes for a great eating experience. Sometimes a brilliant business plan can be simple.
Matt Harper, the owner, who is not fat at all, has nailed it. (seen below with two happy customers)
Thanks Matt for creating a place that is different than all the cookie cutter restaurants. You sir, own an original. Thanks for creating something that feels like it is from another era.
It is simple, yet amazing. And it's always good.