A few weeks ago, I stood on the field at Suntrust Park, the new home of the Atlanta Braves and sang the Star Spangled Banner. It was stressful and exhilarating. I thought you might enjoy the backstory.
I sing with my two sons and my daughter-in-law Rachel. We are called The Waters Singers. I know it's not terribly imaginative, but it's what it is. We sing anytime we are together. We have performed at churches, state fairs and even an Opry House about an hour outside of Atlanta.
We sang the Star Spangled a few years ago at Turner Field, the former home of the Atlanta, Braves. It was a bucket list thing for me. I called my sons and daughter in law, and they all said sure, let's do it. There is an audition process, and on the other side of that, there is singing at the actual game. We nailed it. It was a good experience.
Fast forward three years. Now, the Braves are in their first season in their new facility called Suntrust Park. They contacted us and wanted to know if we wanted to sing the Anthem at a game again, and we said absolutely. 
We arrived at the stadium three hours early for our sound check. We walked down on the beautifully manicured field, took our microphones, and sang. The echo was brutal, and our harmony and tempo were horrible.  We could not hear each other at all. It sounded like a jumbled mess to me. Panic set in. But the audio engineer said it was okay.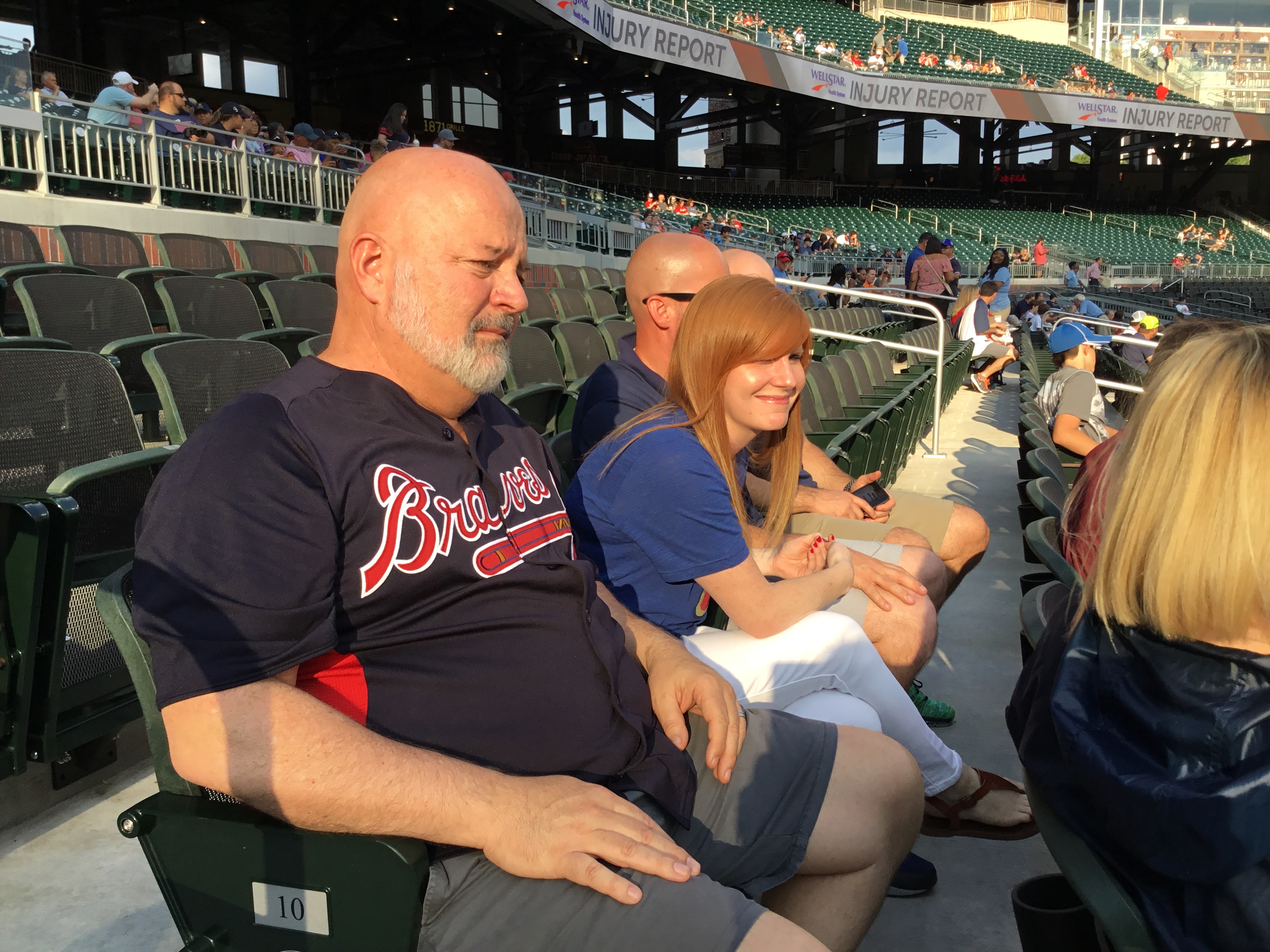 The other singers, all in their 30's seemed relaxed during the three hours we had to wait before we sang again. I am 55 and a slight perfectionist. I was not relaxed. I was anxious and worried. I don't like humiliating myself in front of people. Why did I agree to do this?
At 7:15 we walked out on the field at Suntrust Park. For this performance, we had decided we would watch each other's lips, and we would not let the echo cause us to drag. It would be 1 minute and 30 seconds either way. Sink or swim, let's do this thing. The voice over the loudspeaker said, "Now, would you kindly remove your hats as you stand to your feet as we honor America with the singing of our National Anthem led by The Waters Singers from Atlanta, GA.
"This is it. Watch your sons, and Rachel and don't drag," I thought. "Oh say can you see….." When we finished, there was a thunderous applause, and as we walked up the stairs into the stands, people were hugging us and saying,  "That was beautiful!" Even our very knowledgeable musical friends told us, 'Great job." Were they just being nice? Maybe, it had come together. Maybe it wasn't as bad as I had feared. Maybe it was a miracle.
I have listened to the recording a dozen times, and it wasn't discordant the way I had imagined it might be. It was not our best work, but it wasn't bad. In fact, it was pretty good. Overcoming obstacles, we sang in the new stadium before hundreds of friends and tens of thousands of Braves fans.  No one there knew the pressure we were feeling to listen to each other and harmonize with some pretty extreme hearing limitations. But we did it. And I am sure glad we did. Now please forgive me if I want to just sing in the privacy of my den for a little while. That was a lot of pressure on this 55-year-old.