Jane and I had a wonderful lunch Saturday with a really cool lady who just happens to be the mother of a former Miss America.
We met Susan at a dinner party and found her to be delightful. We made promises to reconnect to get to  know each other better, and that's what we did. Because we did not know Susan well,  I assumed she had raised her daughter in beauty pageants with the pinnacle of pageants being Miss America. I was totally wrong. Susan's daughter, Deidre, had been a great volleyball player who went to college on a sports scholarship. After a year or so of competing at the University of Virginia, Deidre decided she didn't want to continue playing, but quitting athletics meant surrendering her scholarship.
Susan, the mom, suggested that maybe she could enter some pageants in Alabama for the scholarship rewards that are given to the winners. Deidre agreed and with her natural beauty and musical talents, she began placing in local pageants and raising the money she needed to stay in school. In her last year of competing, she won Miss Alabama which meant she would be in the Miss America Pageant.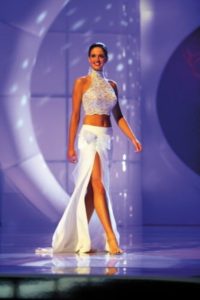 Again, I asked Susan if there were thoughts she would win Miss America, and she said absolutely not. They were thrilled she was going, but, they just hoped she could make the top ten and be on the television portion of the show. When it came down to the top two, it was Miss Alabama and Miss Louisiana. Then the winner was announced. Clay Akin began to sing and Susan realized her daughter was Miss America!
Here's my point. Most of us don't have what it takes to be a Miss America. I know I don't. 🙂 But, there have been times when my life plan has come to an abrupt halt just like Deidre's when she decided she no longer wanted to play collegiate volleyball. She ended her scholarship and needed another path. She didn't enter pageants to win Miss America.  She entered pageants to pay for college. Then one step led to another and the rest, as they say,  is history.
If you are stuck, figure out the next right step and take it. That's all you can do. It will lead you to the next right step. When you string together enough of these right steps you will see true magic begin to happen for you. That is the secret. It worked for Dr. Deidre Downs Gunn and it could work for you.